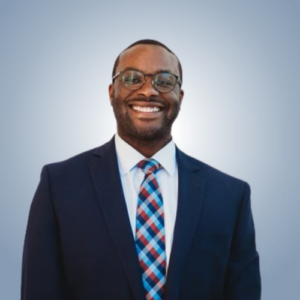 Rashad A. Wright, Sr. ESQ. is a dedicated legal professional specializing in criminal law, serving clients charged with misdemeanors and felonies across Maryland. He fosters interactive relationships with clients, including those incarcerated, to provide empathetic and effective legal counsel. Wright formulates meticulous legal arguments and strategies, ensuring the best possible outcomes for his clients while actively addressing conflicts and offering guidance on legal matters. His commitment to ongoing professional development keeps him at the forefront of criminal law, delivering up-to-date expertise to benefit his clients and exemplifying his unwavering pursuit of justice. 
EDUCATION
Howard University School of Law, Washington, D.C.
Juris Doctor (J.D.), May 2016
Activities: Orientation Committee for the Class of 2017; BLSA Action Chair 2014; Huver I. Brown Trial Advocacy Moot Court Team; Research Assistant for Professor Sherman Rogers
University of Alabama, Tuscaloosa, AL
Bachelor of Political Science (Minor: English), May 2011
Honors: Jack Kent Cooke Scholarship Recipient
Activities: Student Government Association
Gadsden State Community College, Gadsden, AL
Associate of Arts in General Studies, May 2009
Honors: Phi Theta Kappa; and Outstanding History Student
LEGAL EXPERIENCE
Alperstein & Diener, P.A. Attorneys at Law, Baltimore, MD
Associate Attorney, October 2022 - Present
Represented clients charged with misdemeanors and felonies in Maryland.
Developed interactive relationships with clients, including incarcerated clients.
Prepared legal arguments and strategies for clients to ensure the best possible results.
Communicated with clients to advise on legal issues and resolve conflicts.
Developed expertise in criminal law by staying current on cases.
Anne Arundel County State's Attorney's Office, Annapolis, MD
Assistant State's Attorney for Anne Arundel County, June 2017 - October 2022
Handled criminal and Traffic district court dockets.
Conducted multiple Circuit Court Jury Trials.
Prosecuted misdemeanors and felonies, including thefts, DUIs, first and second-degree assaults, burglaries, possession of handguns, and Murder.
Negotiated plea agreements with opposing counsel.
Effectively communicated with victims in criminal cases to ensure their voices were heard in the disposition of cases.
The Honorable Laura S. Ripken, Administrative Judge of Anne Arundel County Circuit Court, Annapolis, MD
Law Clerk, August 2016- June 2017
Analyzed case files and researched relevant legal issues to prepare the judge for daily dockets.
Drafted written and oral opinions and provided recommendations to the judge on pending cases.
Prepared memoranda, briefs, correspondence, and court orders.
Observed and assisted the judge with court proceedings and trials.
Alexander & Cleaver, Annapolis Office, Annapolis, MD
Law Clerk/Session Intern, Spring 2016
Drafted memos and took notes on committee hearings in the House and Senate in Annapolis.
Worked with lobbyists to develop a plan to address their clients' legislative needs.
Researched and tracked proposed legislation in the Maryland House of Representatives and Senate.
Maryland Legal Aid, Anne Arundel County Office, Annapolis, MD
Law Clerk/Summer Intern, Summer 2015
Managed active case files for Housing, CINA, and Family law divisions.
Prepared pre-trial motions, research memos, discovery requests, and responses.
Conducted client and witness interviews.
Attended court hearings, conferences, and CINA related TDM meetings.
Anne Arundel County State's Attorney's Office, Annapolis, MD
Law Clerk/Summer Intern, Summer 2014
Researched and composed legal memoranda for pre-trial motions and evidentiary issues.
Researched and wrote memoranda on various issues for use during felony and murder trials, including battery, self-defense, the castle doctrine, and Brady violations.